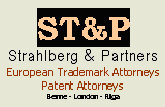 Strahlberg & Partners

European Patent & Trade Mark Attorneys for Switzerland and Eastern Europe
Areas of specialisation
All aspects of intellectual property (trademarks, patents, designs, copyright); licensing; competition law; litigation; pharmaceutical trademark consulting; trademark, company name and domain name searches; worldwide pharmaceutical in-use searches; registration and renewal of domain names. Admitted to practice before the Swiss Intellectual Property Office, WIPO and OHIM, EPO and Latvian Patent Office.
Office activity
We have offices in Berne and Riga and have associated offices in the following Eastern European countries where we work closely with chosen associates:
Albania, Armenia, Azerbaijan, Belarus, Bosnia and Herzegovina, Bulgaria, Croatia, Czech Republic, Estonia, Georgia, Hungary, Kazakhstan, Kyrgyzstan, Lithuania, Macedonia, Moldova, Poland, Romania, Russian Federation, Serbia & Montenegro (Yugoslavia), Slovakia, Slovenia, Tajikistan, Turkmenistan, Ukraine and Uzbekistan.
Countries
The countries we cover:
Switzerland, Liechtenstein, member states of Madrid Protocol and Agreement (international trademarks) and Hague Agreement (international designs) via Berne Office. Baltic States, CIS States and Eastern Europe via Riga Office. European Union (Community Trademarks & Designs) via Cambridge associates (Cam Trade Marks & IP Services). Austria, France, Germany: trademark searches via Berne.
Contact details:
Alfred M. Strahlberg
Valentina Sergeyeva

Swiss Office: Strahlberg & Partners
Funkstrasse 156, Suite 401, P.O. Box 156
CH-3084 Wabern/ Berne
Tel: + 41 31 961 38 92
Fax: + 41 31 961 08 36

Riga Office
Strahlberg & Partners Eastern Europe
8 Zardu Street
P O Box 117 LV-1048 Riga, Latvia
Tel: +371 7 47 11 85 OR +41 31 961 38 92
Fax: +371 7 47 11 85 OR +41 31 961 08 36